ios
Dropping next week on iOS.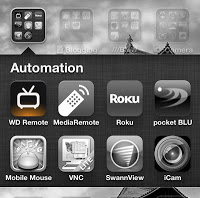 The WD TV Remote app for iOS allows you to use you iPhone, iPod Touch or iPad as a remote control for your
device. Offer all the remote features as the physical remote, the remote app also works over your existing WIFI connection to pair with you WD TV Live device. That means you can control it from anywhere in the house that you can receive a local network connection.
The remote app also provides a services page for quick one tap access to your other WD TV Live connections ie. Netflix, Hulu, Facebook and Flickr. Gesture actions allow for more natural screen navigation and the existence of the virtual keyboard make entering text a breeze.
The physical remote that ships with the WD TV Live is cheaply made and I can see it breaking down over time so knowing there's a free smartphone app keeps my wallet at future ease.
Of course if you don't already enjoy a WD TV Live device today this app is useless for you otherwise
!